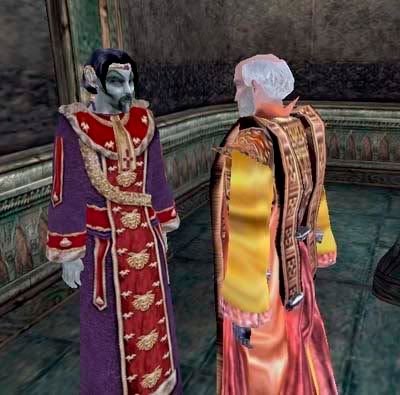 Helseth was ecstatic with the outcome. "Enough!" he shouted. "I have seen you fight my champion, though I find it hard to imagine how you have succeeded. I did not believe anyone could best Karrod, but you have shown me otherwise."
He turned towards Karrod, and added "And he speaks!!"
Karrod turned to his king and bowed. The King acknowledged with a nod of his head, then turned back to me. "There are depths to you, Eldorf Dragonmeal, that I will fathom in time. For now, you have proven yourself to me."
Helseth was quiet for a moment, then added, "I'm impressed, Eldorf. None have ever defeated Karrod in battle, and I certainly didn't expect you to be the first. You continue to surprise me. You have proven your worth to me, as well as your loyalty."
He reached into a fold in his robe, and took out a dagger. "Take this as a token of my faith in our friendship. It was my father's ceremonial dagger, and I place it now in your possession. Do not disgrace his memory, Eldorf the Wise. Now, let us discuss my plans for you.
"Certainly, and thank you for the honor." I replied, bowing gracefully.
Helseth put his hand on my shoulder, continuing, "As I'm certain you know, Mournhold is one of the seats of power for the Tribunal. The goddess Almalexia resides here in her Temple, surrounded by her High Ordinators. I have no great love for Almalexia, her Ordinators, or the Tribunal of which she is a part. In light of recent events, I believe it is time to gather more information about them."
"Certainly." I replied. "Could you be a little more specific?"