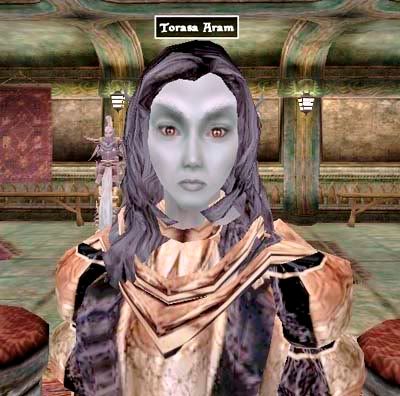 I was greeted by a lovely Dunmer lady. She introduced herself as Torasa Aram, Curator of the Museum of Artifacts. She advised me that this museum was privately funded, and was created to collect and display as many of the artifacts from the Province of Morrowind as possible. She did warn me, however, that this was not a store, and once sold or donated to the museum, it was gone for good, as far as I was concerned.
I explained what I was searching for - the pieces of the Blade of Nerevar. She was very surprised to hear that a piece of the blade could actually be found here.
"Here, in Mournhold?" she asked. "Now there's something I'd like to get my hands on for the Museum."
"Do you know of any of the pieces I might find?" I asked.
"I can't say that I have seen any that I know of," she replied, "but I do have one piece from roughly the same time, and it seems to be of Dwemer construction."
"I would like to see it, if you don't mind." I said.
"I don't have it on display," she replied, "because I haven't been able to positively identify it yet. It's a shield of Dwemer make, but not traditional in any sense of the word."
"How do you mean?" I asked.
"Well, the pieces of it just don't seem to match." she said. "I've wondered if it isn't some sort of a fake. I suppose I might be able to part with it, but I'll need some compensation."
"Er, what kind of compensation?" I asked. "I could donate quite a bit of gold, if that were necessary."
"Well, not gold." she said. "I'm always looking for new pieces of the Museum. Unique items, armor and weapons of lore - you know the stuff. If you would be willing to donate a couple of items to the Museum, I'd be willing to part with the shield."
"I understand." I said. "I'll see what I can find for you."
I went to the back of the Museum and found an old book there, listing things that the Museum was after. One of them, the Ring of Phynaster, was on the list, and it was right in my pocket! I couldn't even remember where I had found it originally, but I was glad to read of its history.
The Ring of Phynaster was made hundreds of years ago by a man who needed good defenses to survive his adventurous life. Thanks to the Ring, Phynaster lived for hundreds of years, and since then, it has passed from person to person. The Ring improves its wearer's overall resistance to poison, magicka, and shock. Still, Phynaster was cunning, and cursed the ring so that it eventually disappears from its holder's possessions and returns to another resting place, discontent to stay anywhere but with Phynaster himself.
Well, I hadn't used it in a long time, so I figured this might get me the item I was after. She was most surprised to see it held before her in my hand.