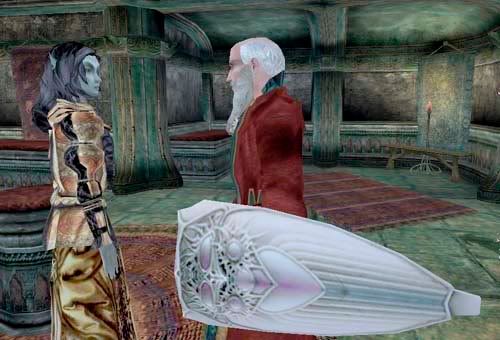 I produced the Shield.
"Oh, my." she said, "Is that truly Eleidon's Ward"
"The very same." I said.
"What a wonderful shield that is!" she continued, marveling at it's smooth texture and beautiful color, gleaming violet and silver at the same time. "Are you interested in selling it? I could offer you 30,000 gold for it."
"No," I replied, "I am also donating this item as well."
She took the shield and handed it to another of her staff, promising to place this in a place of honor as well, considering its history.
"You've been quite a friend to the Museum." she said. "I'll give you the piece of the blade I have. I'm classifying it has a Dwemer Battle Shield. I'm not sure what to make of it. The spike attached to the front of the shield seems to be loose, but a competent smith can probably take care of that for you."
She had one of her people bring the artifact to me. I thanked her for her kindness, and she replied in kind. "Good luck to you," she said, as I was leaving, "and if you're able to recreate the Blade of Nerevar, I'd love to see the finished product."
I turned, smiled, and said, "I'll certainly do that, thank you."