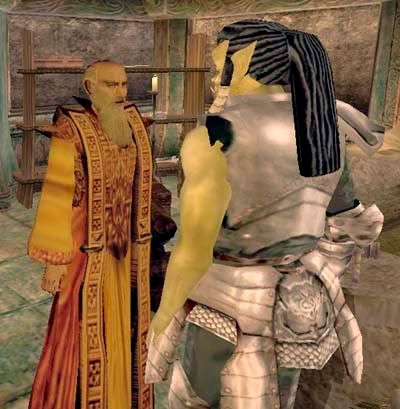 Yagak gro-Gluk saw me approach. He crossed his arms and gave me a stern look.
"Yeah, you the one wanted me to forge the blade." he growled. "I suppose you figure me finish, huh?"
I tried to be polite, of course. "Well, I was hoping, but if it's not done yet, of course...."
He turned, and grabbed the object of my affection, handing it to me. Orks never smile, and I guess it's those two tusks sticking out of their lower jaw - you can never tell if they're happy or not.
"Here's your blade." he said, shoving it in my hands like a disgusted child. "And before you ask, I don't know why it doesn't burn. I'm a smith, not an enchanter. You want Dwemer enchantments on this thing, talk to a Dwemer."
"Um, that might be difficult." I said, starting to explain the situation to him.
"I know, I know. They're all dead." he replied, knowing that I was about to explain the obvious. "But look...I've heard rumors of a powerful Dwemer mystic, Radac Stungnthumz, that lived in Bamz-Amschend."
"That place under the Plaza statue, right?" I asked.
"Yeah, that's the place." he replied. "He's long gone, but maybe some of his writings still exist. If you can find any of them, I'll see what I can do for you."
"I appreciate that. Thank you." I replied.