"You want to talk to a Dwemer mystic?" he shouted back. "HA!" He laughed so loud the echoed off the walls of the room. A moment later, he composed himself. "Look, I'm no mystic." he said. "I wasn't when I was alive, either. I'm a soldier, kid, plain and simple. Sure, I made weapons for my troops. No secret there. I'm no mystic, though. But you say you want to add fire to that blade?"
"Yes, that is exactly what needs to be done." I replied.
"Well, if that's all you want to do!" he said, chuckling, "You don't need a mystic, whelp. I can take care of that for you. We'll need some Pyroil Tar, though. Used to have some around here, but that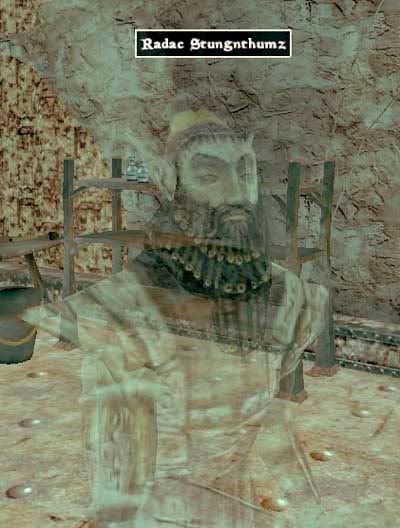 was a long time ago. You can find it in the lower caves of Norenen-dur, in the Citadel of Myn Dhrur. It's an old ruin far beneath Bamz-Amschend."
He turned, and shook his head. "I swear," he continued, "no one is happy with a simple blade that cleaves bone...always need the special effects."
"Well, it was called 'Trueflame' when it was first made." I said. "It wouldn't be that without the flame, wouldn't it?"
"I suppose not." he replied.
"By the way," I asked, "What is Pyroil Tar?"
He smiled at my ignorance. "Just a little something to apply to that blade of yours." he said. "Fine looking blade, by the way. Should give you that 'fiery blade' effect that everyone has always been so fond of."
"Where will I find this Myn Dhrur place?" I asked.
"Deep, deep caves." came the reply. "An old Daedric ruin. Fool Dunmer...worshipping those beasts. I say kill 'em all! Used to be a good spot for all sorts of resources, though. Of course, that was when there were any of us left who needed them!"
"How do I get there?" I asked.
"You can find the place through a cave-in at the Passage of the Walker." he replied. "Take care down there, youngster. No telling what you may run into. You might discover a new way to die. That'd be something, at least. You should be able to find some Pyroil Tar, though. Bring that back to me."