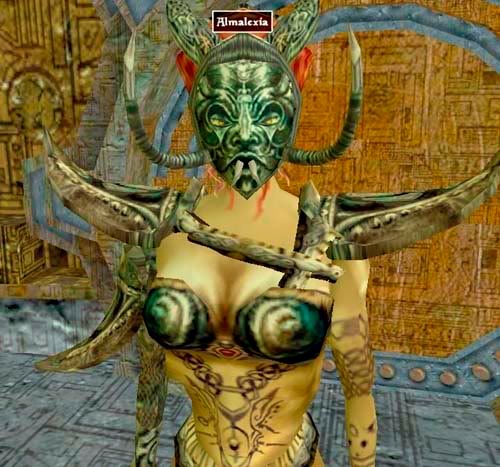 "Fear not." she replied, in a sarcastic tone. "I will tell the tale myself when this is done. I will tell my people how with your dying breath you proclaimed your devotion to me, the one true god. Your death will end this prophecy and unite my people again under one god, one faith, one rule by my divine law. The puppet king will lay down his arms and bow to my will. Those who do not yield will be destroyed."
"So you intend to lie to the people about the situation here, then?" I shouted back. "And what of the situation here? Who is the one responsible for Sotha Sil's death? It was you, who killed him, wasn't it? Tell the truth 'Goddess'! I grow tired of this game."
"Yes," she replied, fondling the ring I had found for her. "The Mazed Band has allowed me to travel to this place. Here, I slew Sotha Sil. Here, I summoned the Fabricants to attack Mournhold. I will be the savior of my people! I alone will be their salvation!"
"You are mad!" I shouted back. "You created the danger that you will save the people from? I will not be a party to this lie! Vivec still lives, and will oppose this deception!"
"None may stand in my way." she replied, "Not you, and certainly not Vivec. He is a poet, a fool. I will deal with him when I have finished with you. And Sotha Sil...he always thought himself our better, shunning us, locking himself in this hole. He spoke not a word as he died. Not a whisper. Even in death, he mocked me with his silence! But I think you will scream, mortal. For now, you face the one true god."