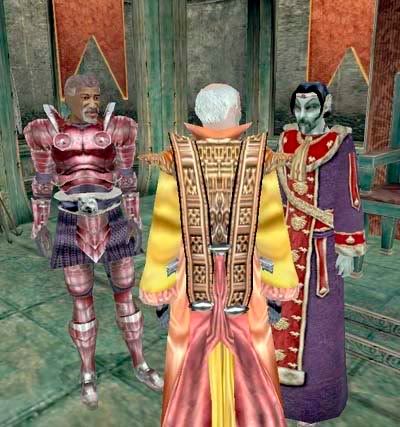 Helseth was happy to see me.
"I have been hearing strange things about you, Eldorf Dragonmeal, and about the goddess as well. Have you learned anything about the attacks in the city plaza?"
I told him about the attacks, and that Almalexia was behind it all. I also told him about Sotha Sil, and the fact that Almalexia had killed him. The look on his face was almost like envy, as if he was jealous that he hadn't thought of something as devious himself.
"So both she and Sotha Sil lie dead in the Clockwork City, you say?" he asked. "She murders Sotha Sil, then tries to kill you as well. Astounding!"
He turned and sat down on his throne. "I believe your tale, Eldorf Dragonmeal, but do not expect my people to be so accepting of it. You will find it is not so easy to kill these gods in the hearts and minds of their followers. It will take time, but this will be a new era for Morrowind, and I will lead them into it. You have done well, my friend. You have my gratitude."
With that, he had one of his guards bring forth a full set of Royal Guard armor. Pretty heavy, but I had no intention of refusing. If nothing else, I could decorate one of my statues in my castle with it.