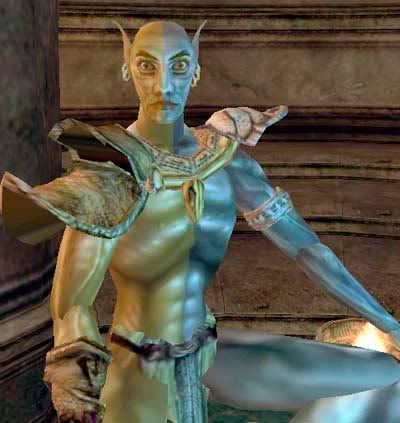 "We don't communicate." he replied. "Without the Heart, our divine powers must diminish. She takes her divinity very seriously, and the loss weighs heavily on her. She tends to brood, and I fear she will do herself and others harm."
I told him that she had sent me on a mission to kill Sotha Sil, but that I had found him dead already. I told him that she also tried to kill me, and that she had been killed in battle with me. I think it was the only time I had noticed sadness in his face.
"That is very sad." he said. "I presume she killed Sotha Sil. I thought she might harm me. And I presume she tried to kill you, Nerevarine.
"It is." I replied. "The ring she had me retrieve had a setting to come here, to your city, same as it was set to take her to Sotha Sil. Had I not been able to kill her, she would have killed you, eventually."
He nodded in agreement. "It is all very sad." he said. "But death comes to all mortals - and we are all mortal now." he smiled. "In time, death will come to me, Nerevarine - perhaps even at your hands. It is futile to deny one's fate. But none-the-less, I'm afraid I find it all very, very sad that it should end this way, something that began in such glory and noble promise."
I agreed with him. As wrong as it was for the Tribunal to attach themselves to the Heart of Lorkhan, they did with the good of their people in mind (and yes, with the desire to be worshipped as living gods, which ended up being their un-doing).