I climbed down to the floor, and suddenly one of the Blades shouted "Dammit! It's that prisoner again! Kill her! She might be working with the assassins!"
"Oh, great, what have I gotten myself into now?" I wondered.
One of the blades came at me, sword drawn. All I had was a sword and a torch, hardly an even match.
Just then, the Emperor spoke up. "No," he cried, "she is not one of them! She can help us. She must help us."
"As you wish, sire." the guard replied.
The Emperor came over to me, understanding my look of bewilderment on my face. "They cannot understand why I trust you." he explained. "They cannot see what I've seen. How can I explain? Listen. You know the Nine? How they guide our fates with an invisible hand?"
I know of this "Imperial Cult" belief he was referring to, the Nine Divines. My own people have their own ancestor-worship beliefs. The Nine were Akatosh (the Dragon God of Time), Arkey (God of the Cycle of Birth and Death), Dibella (Goddess of Beauty), Julianos (God of Wisdom and Logic), Kynareth (Goddess of Air), Mara (Mother-Goddess, and Goddess of Love), Stendarr (God of Mercy), Talos (Tiber Septim, God of War and Governance), and finally, Zenithar (God of Work and Commerce).
As a Dunmer, I was brought up with the beliefs of my own people, yet, some of these deities had made their way into our lives (especially "Zenithar"), yet, this was something 'not me'.
"The Nine and I are not on good terms." I said, trying to be diplomatic without being crass at the same time. I was addressing the Emperor, after all.
He smiled, understanding my response. "I've served the Nine all my days," he replied, "and I chart my course by the cycles of the heavens. The skies are marked with numberless sparks, each a fire, and every one a sign. I know these stars well and I wonder....which sign marked your birth?"
"The Mage", I replied. It was a good sign for someone wishing to pursue such a career, I suppose. Still, all I ever wanted to do was open up a clothing store in Ald'ruhn. That dream seemed to be fading rapidly.
The Emperor nodded in approval. "Then, perhaps, today the Mage shall light your way on the paths of glory." His voice then grew somber. "The signs I read show the end of my path." he stated. "My death, a necessary end, will come when it will come."
"What about me?" I asked. All I wanted to do was return home to my family.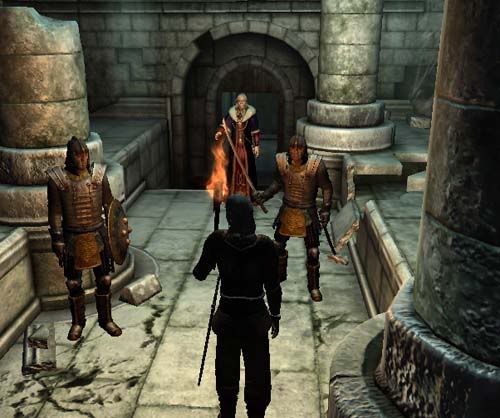 "Your stars are not mine." he replied. "The sign of the Mage will guide your journey as you confront your fate."
My fate? Though no one should ever know too much about their own future, I had no choice but to ask. "Can you see my fate?" I asked, almost afraid to hear the answer.
He shook his head. "My dreams grant me no opinions of success." he replied. "Their compass ventures not beyond the doors of death." I felt like he was teasing me with the possibility of future knowledge, then snatching it away, as one teases a dog with a piece of meat. Yet, there was more to his story. "But in your face, I behold the sun's companion. The dawn of Akatosh's bright glory may banish the coming darkness. With such hope, and with the promise of your aid, my heart must be satisfied."
I wasn't sure I was able to make such a promise. "Aren't you afraid to die?" I asked.
"No trophies of my triumphs proceed me. But I have lived well, and my ghost shall rest easy." he replied. "Men are but flesh and blood. They know their doom, but not the hour. In this, I am blessed to see the hour of my death...To face my apportioned fate, then fall."
He seemed so resigned to dying, yet, runs with his Blades, as if there was some way to cheat this fate he spoke of. Was there such a thing as avoiding what was to come?
"Where are we going?" I asked.
"I go to my grave." he said, with a sorrowful tone in his voice. "A tongue shriller than all the music calls me." He paused for a moment, then smiled and said "You shall follow me yet for a while, then we must part."