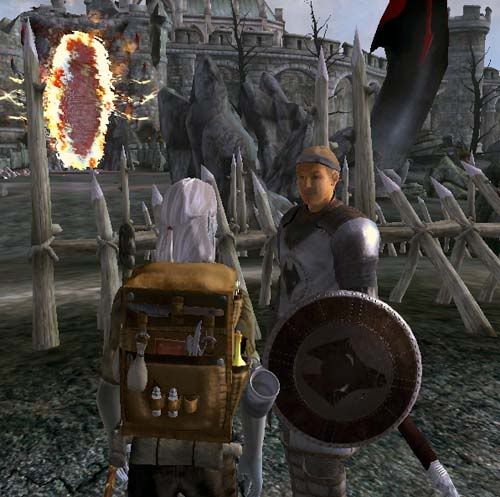 The guards managed to slay the daedra that had arrived outside the city, but I could see a number of their brothers had already fallen.
Suddenly, a member of the Imperial guard called out. "Stand back, civilian!" he cried. "This is no place for you! Get back to the encampment at once!" It was Savlian Matius.
"What happened here?" I asked.
"Happened?" he asked, wide-eyed. "We lost the whole damned city, is what happened. Daedra are everywhere. We couldn't get everyone out." He pointed to the wall. "We couldn't get everyone out. There are still people trapped in there. Some made it to the Chapel, but others were just run down in the streets." He looked back to the city walls. "And now we can't even get back into the city to help them." He pointed at the gate, glowing in angry red colors, sparks flying out from it. "That damned Oblivion Gate is blocking the way. It's right in front of the city gates."
"Do you know how many are trapped in there?" I asked.
"No idea." he replied. All I know is that some of them, if they're alive, are trapped in the Chapel. I am certain that the Count and his men are still holed up in the castle."
"What can be done?" I asked. I had to get to Martin, hoping that he might be one of the refugees in the Chapel, but I didn't know how much of my mission I should expose to him. My only way in to the city was via the main gate, and the only way to the gate was to close that Oblivion Gate.
"What can I do to help?" I asked, not even realizing that I said it.
Savlian blinked. "You want to help?" he said. "You're kidding, right?" He thought for moment. While he thought, I thought maybe I shouldn't have said anything, but it was too late to take it back. "Well, if your serious, maybe I can put you to use." he said, thinking as he went along. "It'll likely mean your death, though. Are you sure?"
"I think this...thing...is responsible for the reported destruction of my home of Ald'Runh." I said. "If that's the case, I have the death of my family and friends to avenge. I'll do what I can."
Savlian thought for a moment. "Revenge is rarely a worthy cause for any endeavor." he replied. "Still, I won't deny you this opportunity."
"Ok." I replied. "What's the plan?"
"Savlian looked at the gate. "I don't know how to close this Gate," he said, "but it must be possibly, because the enemy closed the ones they opened during the initial attack. You can see the marks on the ground where they were, with the Great Gate right in the middle. I sent men into the Gate, to see if they could find a way to shut it."
"Wait." I said. "You have men in there already?"
"Yes," he replied, with a sad look. "They haven't come back." he turned to me, putting a hand on my shoulder. "Look, if you can get in there, find out what happened to them. If they're alive, help them finish the job. If not, see what you can do on your own. The best I can say is, good luck! If you make it back alive, we'll be waiting for you."