"Well," I replied, "we need to get the Amulet back."
"Of course." he said. "The Amulet of Kings. So we...I...can take it to the Temple of the One and light the Dragonfires. And stop the Oblivion invasion."
"And you will be the Emperor." I replied.
"Emperor." Martin said, still taking in how much responsibility he was being asked to take. "That's an idea that will take some getting used to. In any case, we need to ge the Amulet first. Perhaps Jauffre will know what the next step will be."
"What is it about this Amulet?" I asked. "Why is it so vital to all that is going on?"
Martin thought for a moment, thinking about what had happened, and what I had told him about the Emperor, the Jaws of Oblivion, and the need to relight the Dragonfires in the Temple of the One. "All practitioners of daedric magic are familiar with the almost impenetrable barrier between our world and Oblivion.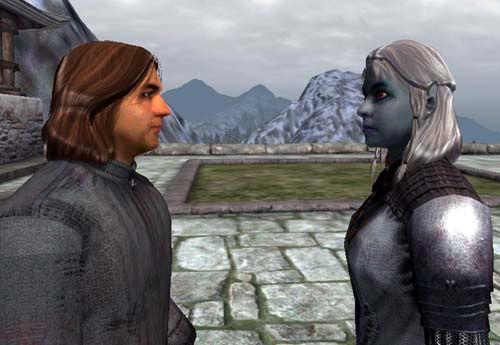 What the Emperor told you implies that the Amulet is the key to perserving that barrier. What I saw at Kvatch...everything I know about daedric magic says that such stable portals are impossible."
"You mean like when I summon a creature from Oblivion, right?" I asked.
"Yes." he replied. "You bring the creature here, but the spell wears off as the portal keeping it in this world eventually fails. The summoned creature vanishes back into Oblivion. Yet these gates to Oblivion existed. The old rules no longer apply. Kvatch is only the beginning of what Mehrunes Dagon will do. If the Amulet is truly the key to restoring the barriers between our world and Oblivion, you must waste no time in recovering it."
"How do you know all of this?" I asked.
Looking a little more humble, Martin replied "Well, I haven't always been a priest. In my youth, I followed a different path. I know more than I want to about the seductive power of daedric magic. Let's just leave it at that."
It was clear there was something there, a skeleton in his closet, that was best left there, alone and undisturbed.
"What makes these gates stable?" I asked. "In closing them, I had to remove a special stone at the top of a flow of magika."
"Something has changed to make these stable portals to Oblivion possible." he replied. "Jauffre believes that the death of the Emperor and the darkening of the Dragonfires is the key."
"Dont' worry." I said. "I think you'll be safe here. We'll think of some way to get the Amulet back."
Martin smiled. I gave him a hug, forgetting that he was to be the next Emperor of all of Tamriel. Like me, he had come from humble beginnings, only to have the weight of this entire situation thrust upon his shoulders. I wasn't sure who had the more dangerous part of this mission. I could walk away, now that Martin was safe. Martin, on the other hand was going to be in danger no matter what path he took, simply because of his heritage.
Martin walked quietly into the Temple building. I watched him walk to the door, go inside, and close the door behind him. And suddenly, I felt like I didn't really know what to do next. Martin was here. The Blades would protect him as well as anyone could. Perhaps it was time to find my way back to Morrowind. But no. Ald'Ruhn had been destroyed by the same fate as Kvatch. No survivors. I had no home to go back to.
I heard Jauffre call my name. "Shakula. Could I speak with you for a moment?