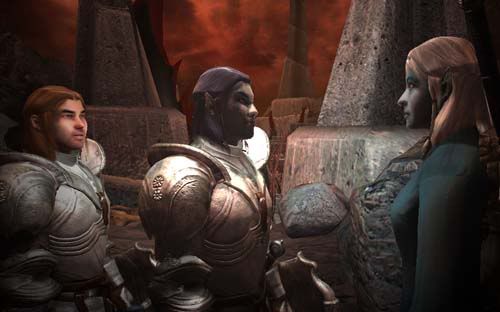 Finally, at the lower end of the tunnel, I met with the first non-monsters I had seen in a long time. It was Farwill and his last remaining Knight of the Thorn Bremman Senyan. I would have expected that they'd be happy to see some help, but Farwill was more annoyed than anything else.
"It's about time someone got here." he snorted, half expecting an army, I guess. "What took you so long?"
"I am Shakula. What happened to your knights?" I asked.
"Well, I'm glad you asked." he said proudly. "I sent out with the rest of the Knights to rid this gate from the face of our fine world. Well, we were overwhelmed as we came through the gate. Dozens of monsters, you see."
"I see." I said, nodding as if I really cared for this fish-story. "Please continue."
"Oh, thank you." he said. "Well, I myself was able to kill perhaps, oh, two score of them, but they just kept coming." He turned to his friend, continuing, "Only Bremman and I remain alive. However, with you here now, we can take the Sigil Stone from that citadel and complete our quest for the good of all Cheydinhall!"